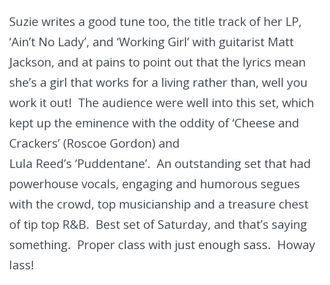 How exciting!!
We have a good run of shows coming up and we had a great start playing Broadstairs Blues Bash, what a fab little town and a wicked festival, there were blues falling out of venues up and down every street, well done to those organisers, I completely fell in love with the place.
Matt and I have played a few duo gigs since then and they went fantastically well, music it seems is back in the room!! 
Please take a look at our shows and see if there is a venue near you we're playing, we would love to see you xx 
Whoops, a bit late with the happy new year wishes but I mean them all the same with all my heart. Last year was a bit of a wash out with two bouts of covid and a broken foot but we did some good stuff. Most memorable for me was playing the festival I created with a couple of friends of mine, originally set out to be a book launch for a book we made in 2020 the event turned into a three day festival of madness and ballgowns (pictures in the gallery) check out what we are about at frockupfriday.com man, its an international community of happiness. I have really enjoyed my break off and spent a bit of time at home up North with my beautiful family.